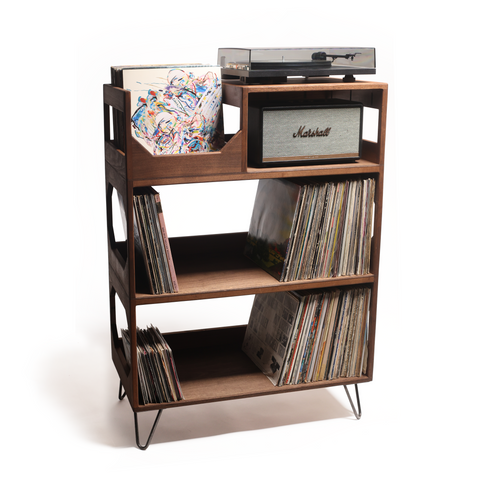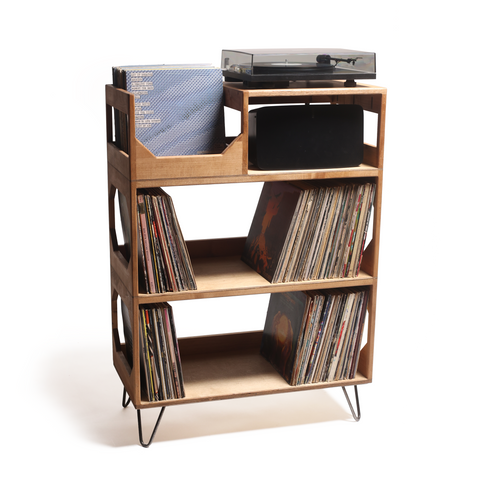 The Hamilton Turntable Station
Show more
The Hamilton Turntable Station
is designed by collectors for collectors.  Handmade in Portland, Oregon from Pacific Coast Maple, sourced sustainably from nearby forests and is guaranteed to last a lifetime. Everything you need to enjoy your collection all in one place. 
Arrives fully assembled! Just attach the legs.

Dimensions:
Overall: 32.5" wide x 16" deep x 45.25" tall (with 6" hairpin legs)
Table size: 18" wide x 16" deep
Upper cubby dimensions: 17.25" wide x 15.25" deep x 9.25" tall

Capacity: 500+ 12" vinyl records


Try our NEW Wire Divider Add-on! Great for if you haven't acquired enough vinyl to fill the entire base or for those who just like a cleaner look.

Please allow for 6 weeks build time from order date. 



Dimensions
Capacity
Looks great%2C needs a few tweaks
I received my turntable station a week ago and everything was exactly as shown%2C quality is great%2C and packaging was robust and easy to get set up as it is almost completely assembled. %0D%0AMy only issue with the unit is that all the shelves have a raised back bar. Now%2C if you're putting records on that shelf%2C you won't have a problem. However%2C I needed a spot for my amp%2C a power hub%2C and a streamer. %28In addition to records%29. %0D%0AThe problem is%2Fwas that the "raised rear shelf back" blocked the ability to have clear access to the components terminals. Power cords%2C audio interconnects%2C speaker connections were all either%2C difficult%2C or impossible to access as the raised back blocked them. I had to put my amp on a lower shelf on top of another component in order to have access to the terminals. I didn't want to saw the rear lip off the upper shelf. %0D%0ANow%2C if you were putting records on the shelf%2C the back is what stops the records from slipping out the back. But%2C everyone needs at least a few components to make the system complete. %0D%0AI would recommend the builder to create an alternative or convertible system for the shelf back depending on what you want to put on each shelf. %0D%0AAs I said%2C the quality is great just needs a few tweaks to be more user friendly. %0D%0A
Wonderful piece, well worth the wait.
Great!
It's beautiful and holds my records safely.
Fantastic!
Great product! Excellent craftsmanship. Couldn't be happier!